When transporting customers' belongings, carrier liability insurance coverage protects against loss or damage incurred in transit, providing extra peace of mind.
When you bid on a shipment, customers may ask about whether or not you're insured. But there are many different types of insurance coverage, so how do you make it crystal-clear what degree of protection you're able to provide?
That's where CitizenShipper steps in. To help all transporters provide peace of mind to their customers, we're introducing a brand new insurance verification feature!
Here's how it all works in three simple steps:
First, navigate to the verifications page of your CitizenShipper profile. Scroll down to "Insurance Verification", and click to submit your insurance information: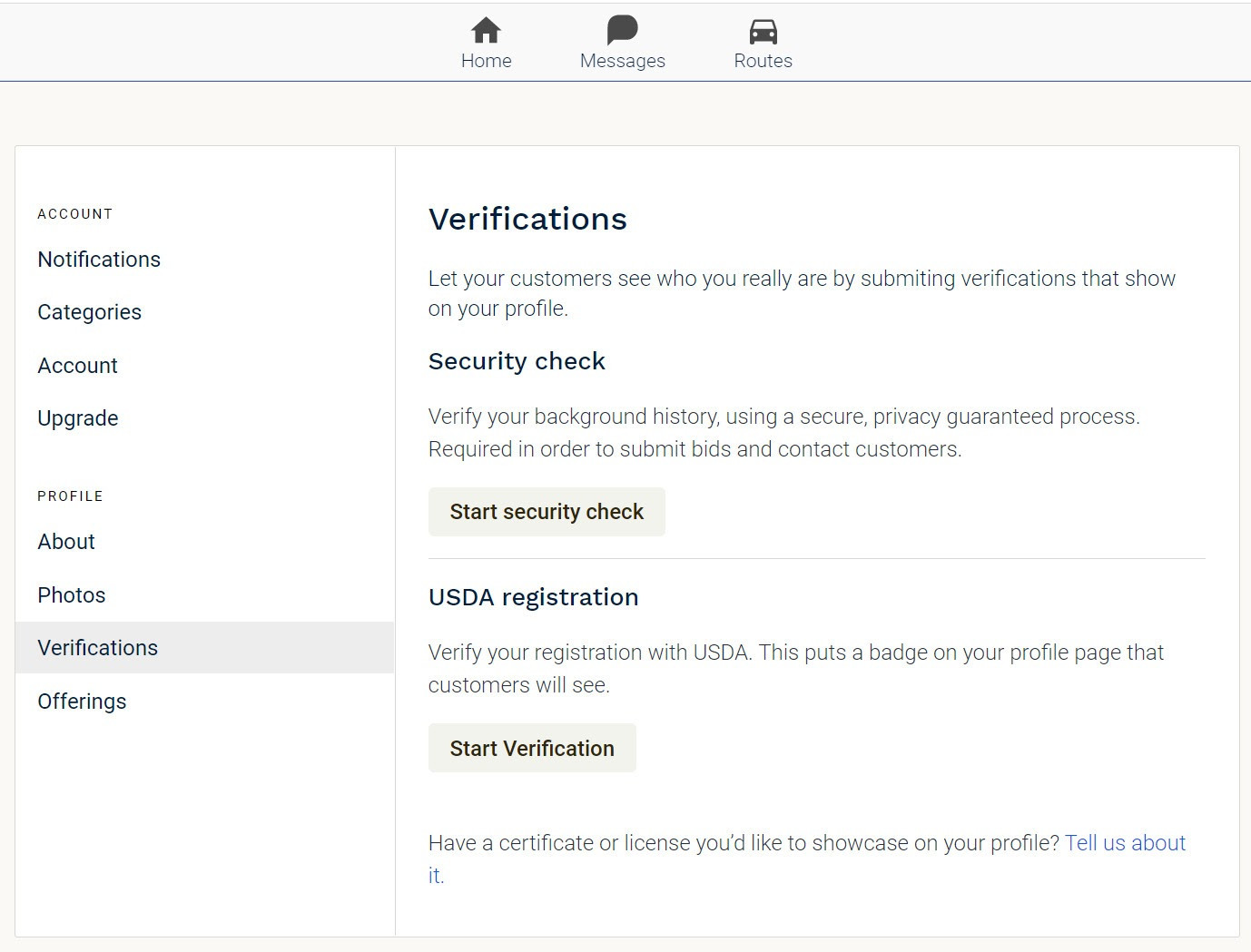 Here, you will be asked to state who your insurance provider is, and broadly what kind of coverage you've got. The options currently listed are Motor Truck General Liability, Cargo Insurance, and Pet Insurance. If the insurance you carry doesn't fall under these categories, please let us know and we'll consider expanding the verification options.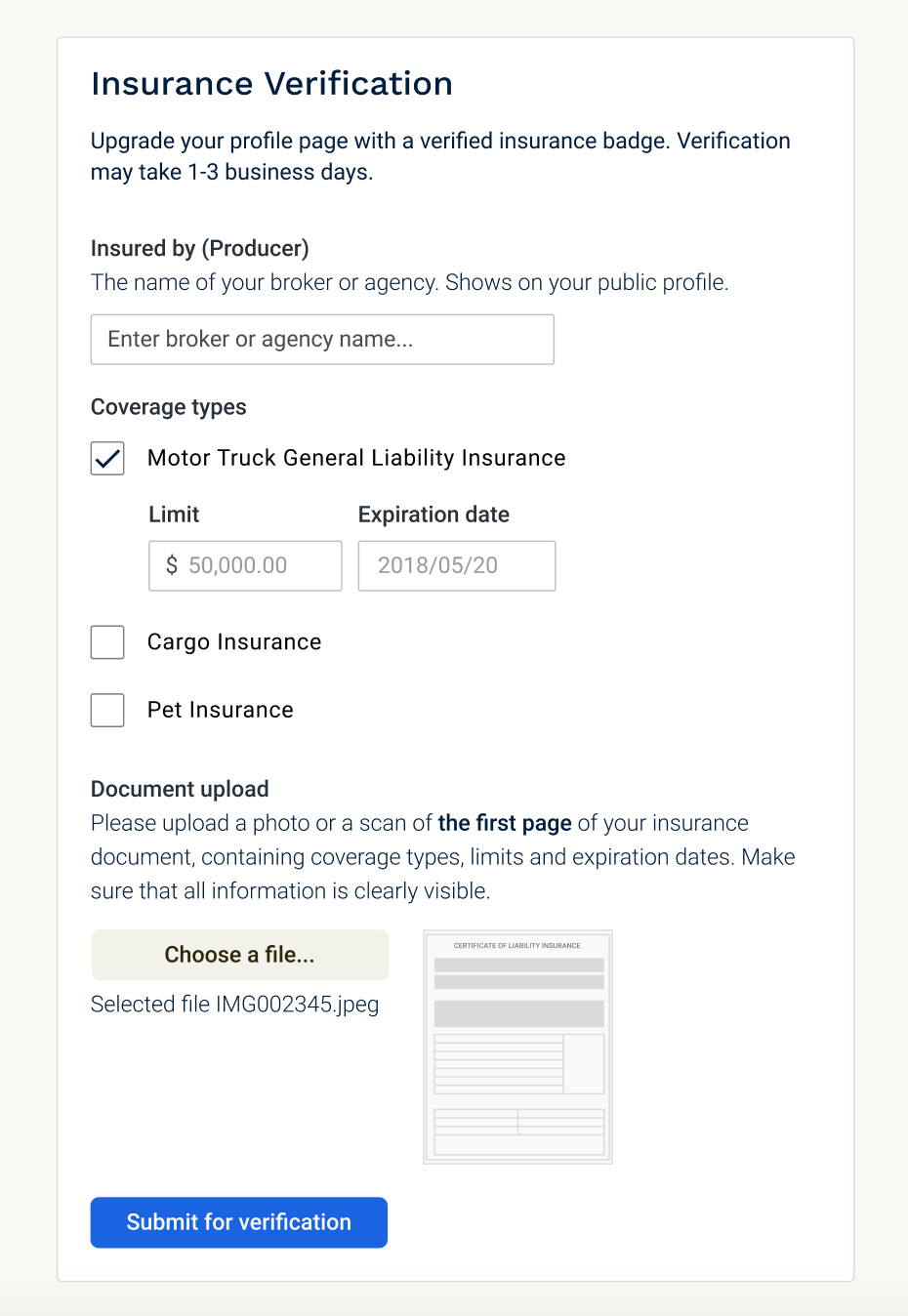 Now you just have to take a pic of the first page of your insurance papers, upload it, and you're done — we'll take it from there!
We'll go through the information you've submitted, just to confirm that everything is on the up and up. And once we've established that, we'll add a new checkmark to your profile page, stating that you're now insurance-verified: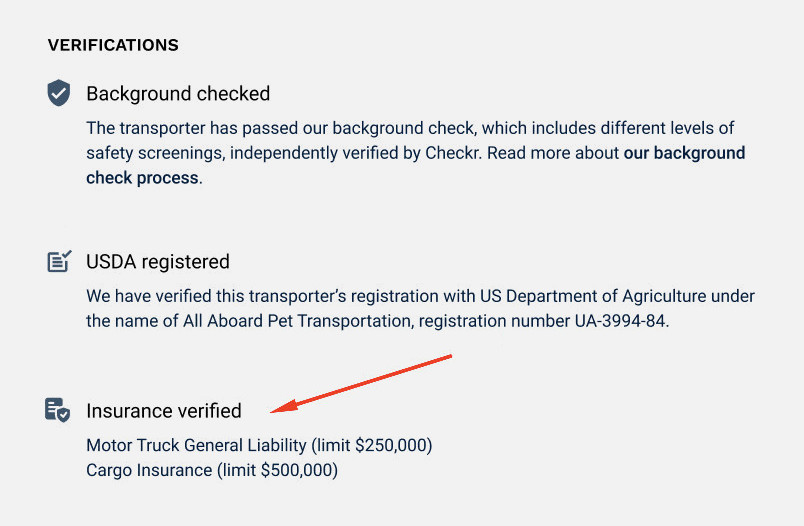 This should make it clear to every potential customer that you're sufficiently insured, as verified by CitizenShipper.
As our marketplace expands and your competition grows, it's vital that you're able to provide this added peace of mind to every shipper that visits your profile. We're eager to assist drivers that make the effort to get quality insurance coverage in getting the message across to potential customers!
Limits of Insurance Verification

CitizenShipper receives photos/scans of a drivers insurance policy from drivers. Our team then verifies from this information the type of insurance, amount and expiration date and 'approves' this information from our dashboard which leads to a driver obtaining their Insurance verified check mark on their profile. CitizenShipper is not responsible for doctored information, cancelled insurance policies or anything else that may invalidate the claims of the driver relating to their insurance coverage. CitizenShipper does not call the insurance provider to confirm the information received, or verify that the policy is in good standing.
For further details on the competitive advantage that this brings when bidding on shipments, please feel free to contact our support teams.
For more info on the insurance options available to transporters, please see this article.