Welcome to CitizenShipper and thank you for using our shipping platform! After posting a listing you'll receive messages and free quotes from interested drivers within minutes. As the bids start to fill your inbox, you're probably wondering — how do I know which driver is the best choice for me?
Our goal is to provide a cost-effective and reliable shipping solution and we know your budget is a major influence on selecting a driver. But when multiple transporters place a bid within your price range, how do you know who to hire? The first place to start is by taking a close look at driver profiles. These profiles are a great way to determine which driver is the perfect transportation match.
We've gathered feedback from thousands of customers and applied our team's experience to create this checklist to use and select a transporter that is right for you.
1. Driver Profile and Communication
When a driver bids on your shipment, use our internal messaging platform to start a conversation and find out what they're all about. You want to hire a trustworthy person to transport your most valuable possessions. First impressions matter a lot — we encourage you to pay close attention to the transporter's opening message. As you take a close look at their profile, ask the following questions:
How does the driver's profile photos look? Are there clear photos of themselves and their vehicle?

What do they say in regard to their experience in the

About

section? What are their dominant skills? Do they have any specializations? Are they registered with the USDOT?

Are they easy to communicate with? How quickly do they respond to your questions and concerns?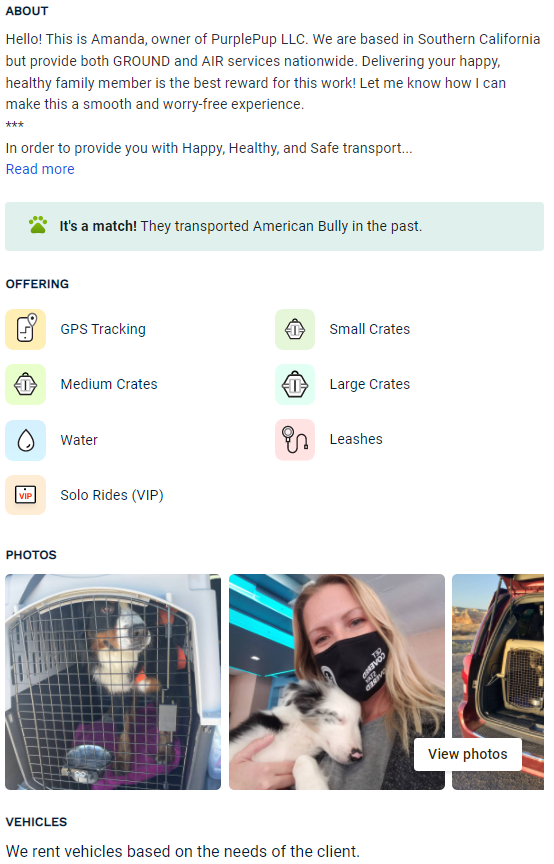 Responsiveness
Your time is valuable and you want to hire someone that understands this. Favor drivers that make it easy to communicate during the booking process. How quickly do they respond to questions and concerns? The best drivers use the messaging system to understand every detail of the shipment and not just to negotiate rates. Your communication on the messaging platform is a strong indicator of how interactions will be handled on the road.
When messaging with drivers, don't just consider responsiveness; you should also factor in their tone and professionalism. Do they strike a friendly attitude or are they a robotic automaton? Transporters that are friendly and professional on the messaging platform tend to provide the best shipping experience.
2. Verifications
We understand how important it is for our customers to feel comfortable that their driver is reliable, well-vetted and trustworthy. We've developed a comprehensive verification process that includes background checks, cargo and general liability insurance policies, USDA registration for pet transporters and USDOT numbers.
When selecting a driver, scroll through their About section to see if they "check the boxes" you need to feel confident the shipment is in good hands.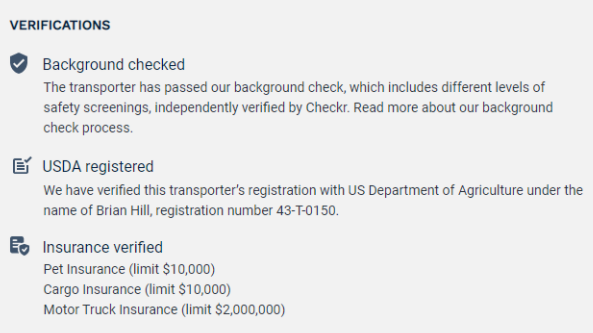 3. Achievements
Once you've checked their verifications, next is the Achievements section. This displays information like their average rating based on prior reviews, how many times they were booked on CitizenShipper and whether they had any cancellations in the past four weeks. The final and most important stat: Does all of the above qualify them as an expert in the shipment category you need?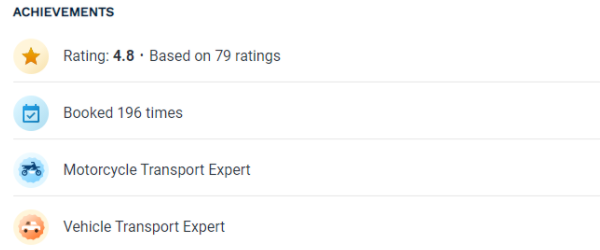 Just because a carrier doesn't have any prior bookings on CitizenShipper doesn't mean they're inexperienced. They may have just recently signed up and therefore don't have achievements listed yet.
This is where using the messaging platform is an invaluable resource. Ask the driver about prior experience in the shipping industry. You might get a different impression based on their answer and not just looking at the raw numbers.
4. Reviews
Finally, Customer Reviews give you a lot of context about the transporter. Each shipment request is unique so put a strong emphasis on the agreement you negotiate with the driver. We recommend reading through the reviews to get an understanding of the reviewer's motivation - some negative reviews may be due to criteria that's not relevant to your shipping needs.

Remember, as in the Achievements section, a driver that doesn't have much feedback may simply be new to CitizenShipper. Once the driver delivers your shipment safely and swiftly, please find the time to thank them through positive feedback.
Rating and reviewing a driver is the easiest way to show your appreciation of the amazing service they provided. Your feedback also helps future customers make an informed decision on whether or not to hire a driver.
If you have any further questions regarding CitizenShipper or how to use the site, feel free to contact us anytime at support@citizenshipper.com.