Welcome to CitizenShipper, and thanks for listing a shipment with us!
So what's next?
After listing a shipment on our site, you'll receive messages and quotes from interested drivers. Rest assured that these drivers are pre-screened, verified and qualified to transport your shipment.
You can control the entire flow of this process from your dashboard. The first screen you'll see after logging in looks like this: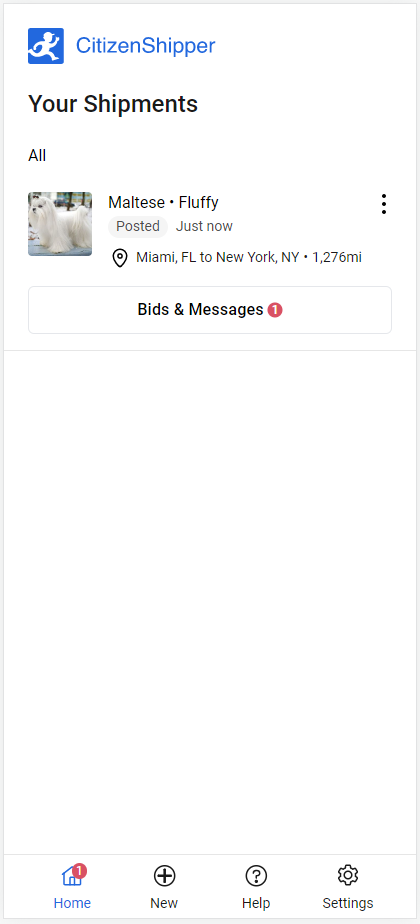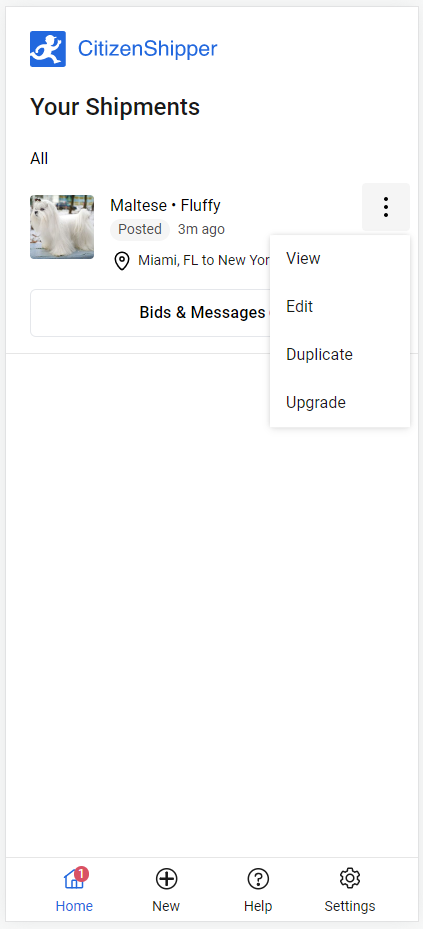 This is your dashboard and where all the magic happens. It shows all of your available listings, allows you to access bids and messages received from drivers, create new listings, update your notification settings and ask for help if needed.
By clicking on the three dots in your listing's upper right corner, you can view, edit, duplicate and upgrade your listings.
Upgrading your listing empowers you to receive faster and more affordable quotes by making your post featured or urgent. You can learn more about our listing upgrade options in this article.
Bids & Messages
This will be your most important menu and where you'll communicate with drivers.
Our internal messaging platform allows you to chat with drivers in real time and book the one who's the best for your shipping needs. If either side of the conversation isn't available in real-time, we'll send out a notification via email and text, so both parties know they have a message waiting.
Once you start communicating back and forth, it should look something like this: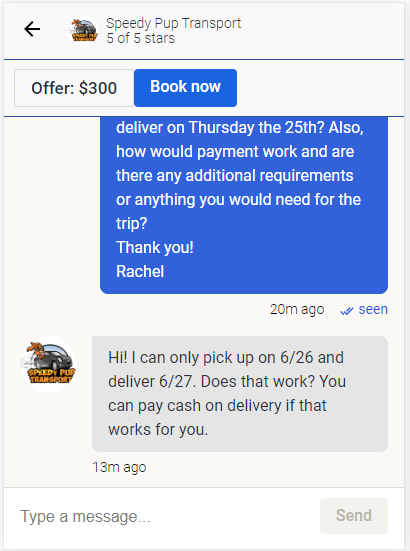 Please note that CitizenShipper does not allow the exchange of contact information via its messaging platform. We strongly recommend conducting all business on-site, where everything is kept secure and on record. This not only protects you from scammers but also helps us mediate any disputes that may arise.
Before clicking Book now, we advise that you check out the driver's profile page. Click their username to view their profile summary, and then click See full profile & reviews to proceed.
Driver profiles
Driver profiles give you peace of mind. You can view any driver's biographical information, past experiences, reviews and ratings, specialties and more.
Here's an example of what you'll see when you first visit a driver's profile page: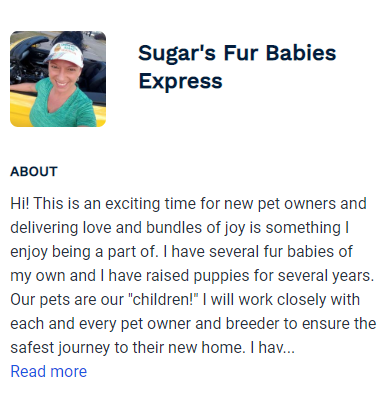 The driver about section can tell you anything that you should know about the driver's personality, experience and usually holds information on their policies and payment terms. Plenty of drivers also provide basic and additional services and equipment during travel, which you can learn more about in the section below: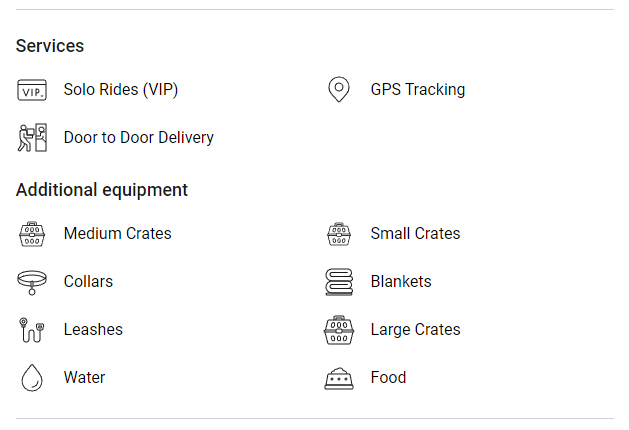 Below this introductory section, you'll see a wide range of information, including the driver's average rating, the number of shipments they've delivered, their cancellation rate and more.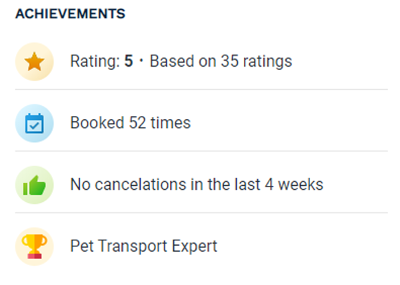 After you check the driver stats, you can look at their photo gallery to see some of their previous transports, the equipment they used to perform these as well as photos of happy customers, to further ease your piece of mind regarding what to expect. Additionally, some drivers will also share information on the vehicle and any trailers used to complete their transport, if applicable: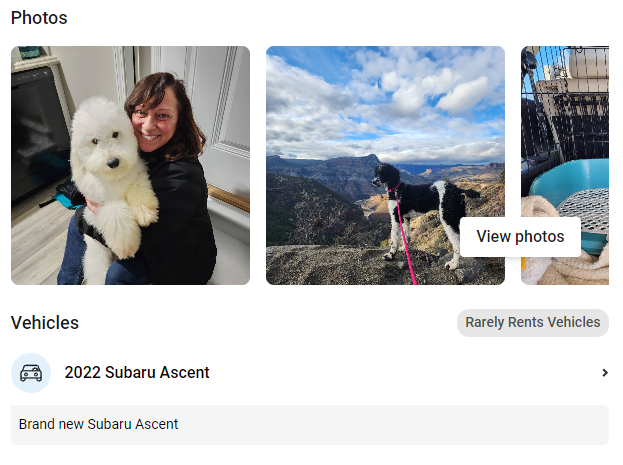 Finally, you can browse through reviews left by the driver's previous customers: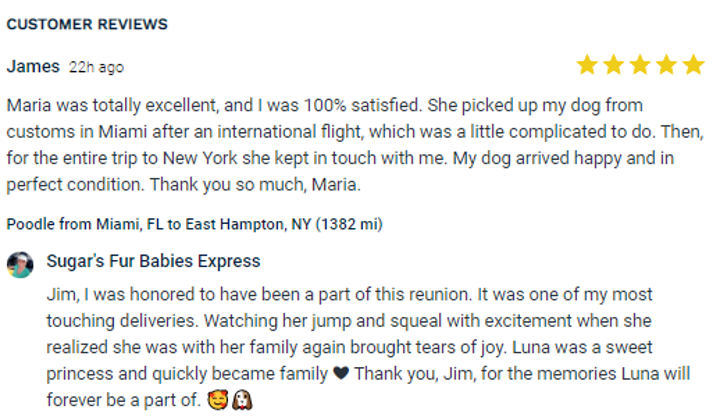 Reviewing this valuable data should provide enough information for you to make an informed decision about hiring them.
Want to view expert tips on selecting the best driver? Check out this short video:
Driver quotes
Going back to the main messaging platform – here's what you'll see when a driver submits a quote on your shipment: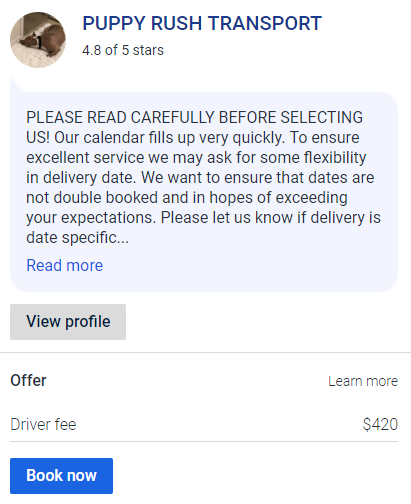 In this example, the driver is offering to deliver your shipment for $420. Keep in mind that this sum does not include the CitizenShipper Success Fee - that will be added to your total later, if and when you choose to accept the bid.
Once you're ready to book your driver, hit the Book now button. This will take you to the booking page, where you can review the total expenses and input your credit card information.
Once that's done, we'll notify the driver that they've won the shipment. You'll be given each other's contact information so you can arrange any further details directly.
Congratulations on matching with your driver!
Rate and review your driver
After your shipment's complete, we invite you to review your driver. Please consider carefully that your review is honest and fair. If you got bad service due to poor driver performance vs. circumstances beyond the driver's control, you should reflect that in your review.
Your feedback helps other customers make an informed decision on whether or not to hire a driver.
To review your driver, select their message thread and click Review in the top right: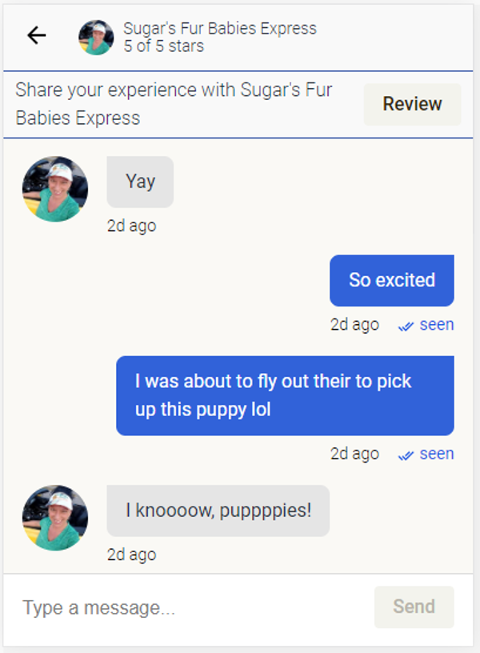 If you have any further questions regarding the CitizenShipper customer interface, feel free to contact us at support@citizenshipper.com! We're here for you, 7 days a week.
What to read next
For more advice on making the most of your CitizenShipper experience, see the articles on listing a shipment (1-min read) or adjusting your notification settings (2-min read).
For a comprehensive overview of CitizenShipper policies, check out this section of our Help Center.