Most transportation jobs on CitizenShipper are completed without issue. However, there are some steps you can take to ensure the transaction goes through smoothly.
First, familiarize yourself with the

shipping process

so you'll know what to expect.

Next, once you have a general idea of the process you're ready to post a job.

Then, you'll receive bids on your transportation job.
Read on for tips on how to proceed after receiving bids!
Agree on Payment Details Before Booking a Driver
Before you hire a driver, be sure that you're both clear on the details of the payment. We require transporters to inform you of their payment requirements before you can accept their bid and enter into a contract. This should include:
Payment Amount
How much will you be paying the driver for the transportation services?
Time of Payment
When will the payment be made? Will you pay upon delivery or at the time of pickup?

Does the driver require partial upfront payment?
Payment Method
Will the driver be paid in cash, with a check, on a credit card, through PayPal or some other method?

We recommend you choose a payment method that can be disputed

in case things don't go according to plan. This is particularly important if the driver requests an upfront partial payment.

Payment methods like

PayPal

,

ApplePay

,

Square

and credit card providers have safeguards in place that allow you to

dispute a payment

.

Avoid irreversible payment methods

, such as direct money transfers via Western Union or Moneygram. We advise against CashApp and Venmo because payment disputes require cooperation from the payment recipient.
Provide Contact Information of All Involved Parties
Some shipping customers are able to be present at the pick-up and drop-off locations, But more often than not there's a third party involved, typically friends or family members at who receive the shipment at the destination.
After booking a driver, give them the contact information of anyone who will be involved in the transportation process.

Allowing the transporter to coordinate directly with other parties is more efficient and makes miscommunication less likely.

Making it easy for any other parties to stay in contact with the driver maximizes the success of the transportation job.
Be Very Clear on Your Date and Time Requirements
We ask that you input your preferred date for pick-up and delivery when you list a transportation job. This allows drivers to plan their jobs around your stated time frame.
Before you book a driver, be sure to use our messaging platform to very clearly state the dates of pickup and delivery.

Using the messaging platform ensures a digital record of your communication will be saved, which can be valuable if there's a dispute. Always

stay on-platform before booking a driver

.

We understand some customers are more flexible than others — your ability to be flexible with pickup and delivery dates will affect who you want to book.

Pay close attention to a driver's terms before booking; some reserve the right to pick up or deliver within 72 hours of the desired date.
Communicate with Your Driver
For a transportation job to run smoothly requires both parties to communicate well with each other. After you book a driver, you'll receive each other's contact information.
Drivers usually take the initiative to get in touch with you after being hired, but if you don't hear from them it may be because they're in the middle of another job.

We encourage you to reach out to the driver by text message or email and introduce yourself.

If you haven't heard from the driver, try messaging on the CitizenShipper platform as another method of outreach.

Our customer support team is here to help you if you're having issues contacting the driver.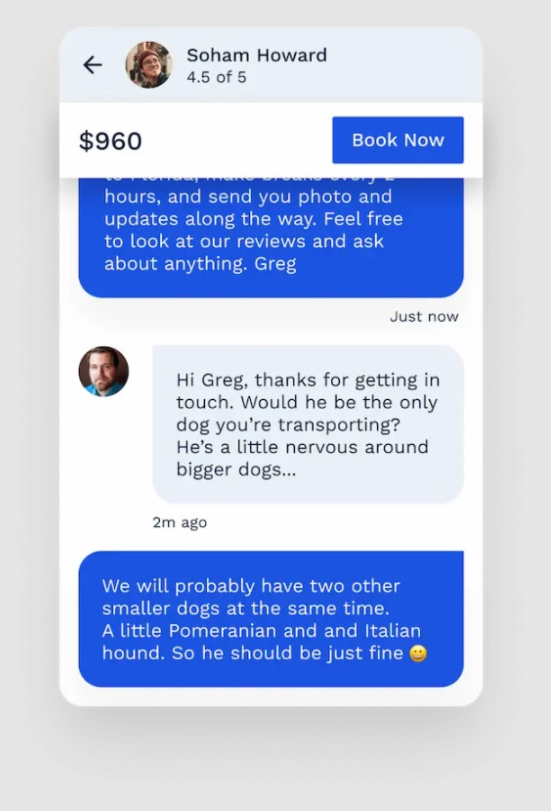 Conclusion
In summary, there are a few simple steps you can take to ensure a smooth transaction on CitizenShipper.
Agree on payment details like amount, time of payment and method of payment.

Be very clear about how flexible you can be with your pick-up and delivery dates.

Stay in communication with your driver, whether through the CitizenShipper messaging platform, text messaging or email.
And again, you can always contact support@citizenshipper.com with any further questions or comments about the transportation process.