Verifying your identity is one of the best ways to gain trust with shippers on CitizenShipper. It is a completely automatic, secure process that only takes a few minutes to complete.
To initiate the verification process, visit this link, and follow the steps below.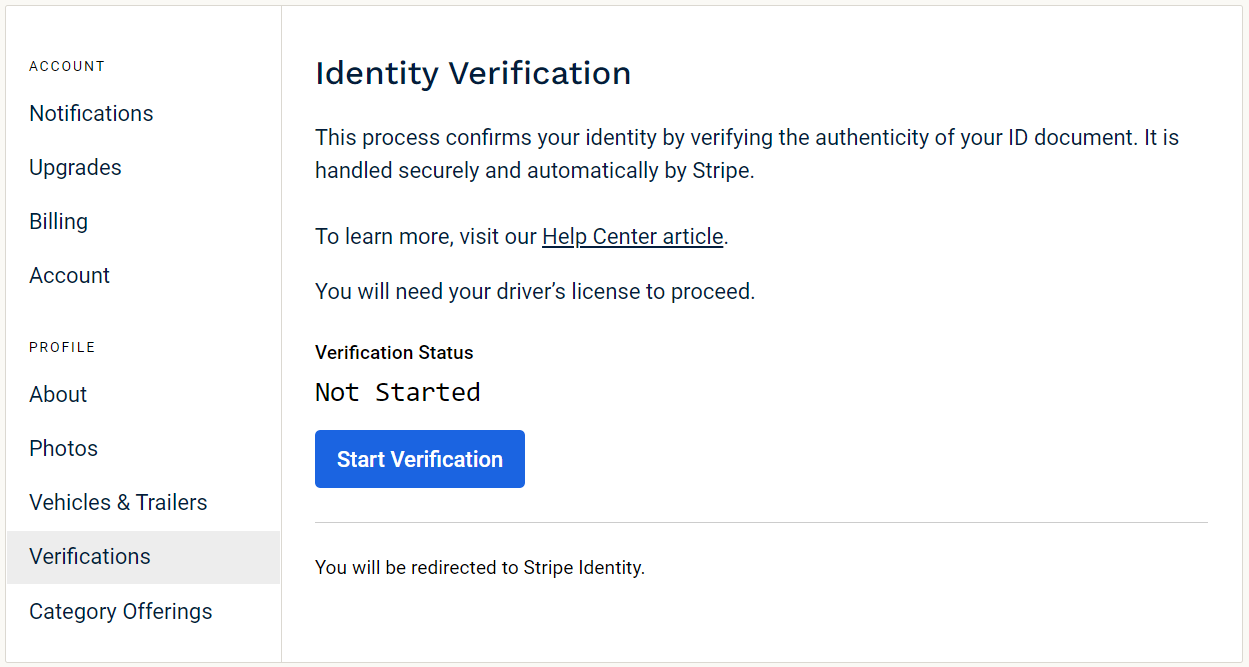 How it works
CitizenShipper works with Stripe to conduct identity verification online. Stripe builds technology that's used by millions of companies around the world like Amazon, Google, and Zoom. They help with everything from accepting payments to managing subscriptions to verifying identities.
Stripe helps CitizenShipper confirm your identity by conducting the following checks:
Stripe will capture images of the front and back of your government-issued photo ID and review to ensure that the document is authentic.

They've built an automated identity verification technology that looks for patterns to help determine if an ID document is real or fake. This process is like a bank teller checking your ID document to confirm that it's real. Stripe will then compare a photo that it captures of you to compare your face with your ID document.
Stripe will collect your name, date of birth, and government ID number, and validate that it is real.

They will check this information against a global set of databases to confirm that it exists.
Stripe will ask for your consent before collecting and using your information. They will only use your verification data in accordance with the permissions you grant before starting the verification process, and based on their Privacy Policy.
Learn more about how Stripe is storing and handling your data.
Your new profile badge
Once the process is complete, you will receive a new profile badge. This helps shippers see that your identity was securely verified – helping you build trust and win more business.

Best practices for a successful verification
Before starting the verification process, here's what you need:
A valid government-issued photo ID document.

Not a photocopy or a picture of an ID document. Ensure that the ID document is not expired.
A device with a camera, if possible, use a mobile device.

Cameras on mobile devices typically take higher-quality photos than a webcam.
The quality of the images captured affects success rates dramatically. Below are a few best practices to help ensure that your verification succeeds:
Capture a clear image.

Make sure that the images are not too dark or bright, and don't have a glare. Hold steady and allow your camera to focus to avoid blurry photos.
Do not block any part of your ID document in the image.

Ideally, you can lay it flat to take the photo.
Do not block any part of your face.

Remove sunglasses, masks, or other accessories.
Find a location with ambient lighting.

Avoid spaces with strong overhead lights that cast a shadow on your face or ID document. Avoid sitting directly in front of a bright light that can wash out your face and add a glare to your ID document.
Frequently asked questions
Why should verify my identity?
While the verification is currently optional, it is a part of our effort to improve safety and make shipping on CitizenShipper. easier and more trustworthy. Customers turn to CitizenShipper to transport their most valuable items, verified identities make it easy for them to choose us, and you.
Can I verify my team as well?
If you're working with a team of drivers, they will need to verify their identities as well. Please reach out to support@citizenshipper.com to get started.
Your drivers will be sent a unique link each that they can use to verify their identity.
Is Identity Verification mandatory?
Yes, Identity Verification is mandatory before a driver can place a bid or send a message to a prospective customer.
Where do I verify my Identity?

Click on this link to start the ID verification process.