First impressions have always been crucial to success in business. On CitizenShipper, the message you send to a potential customer can make the difference between winning the job or not. But what exactly makes a good introduction? How do you stand out and turn a prospect into a happy customer?
This is both an art and a science, but don't worry, we've put together a list of best practices and examples to get you started. Then use our new Intro feature to save your introduction as a template, so you can send it out to multiple prospects with just a single click.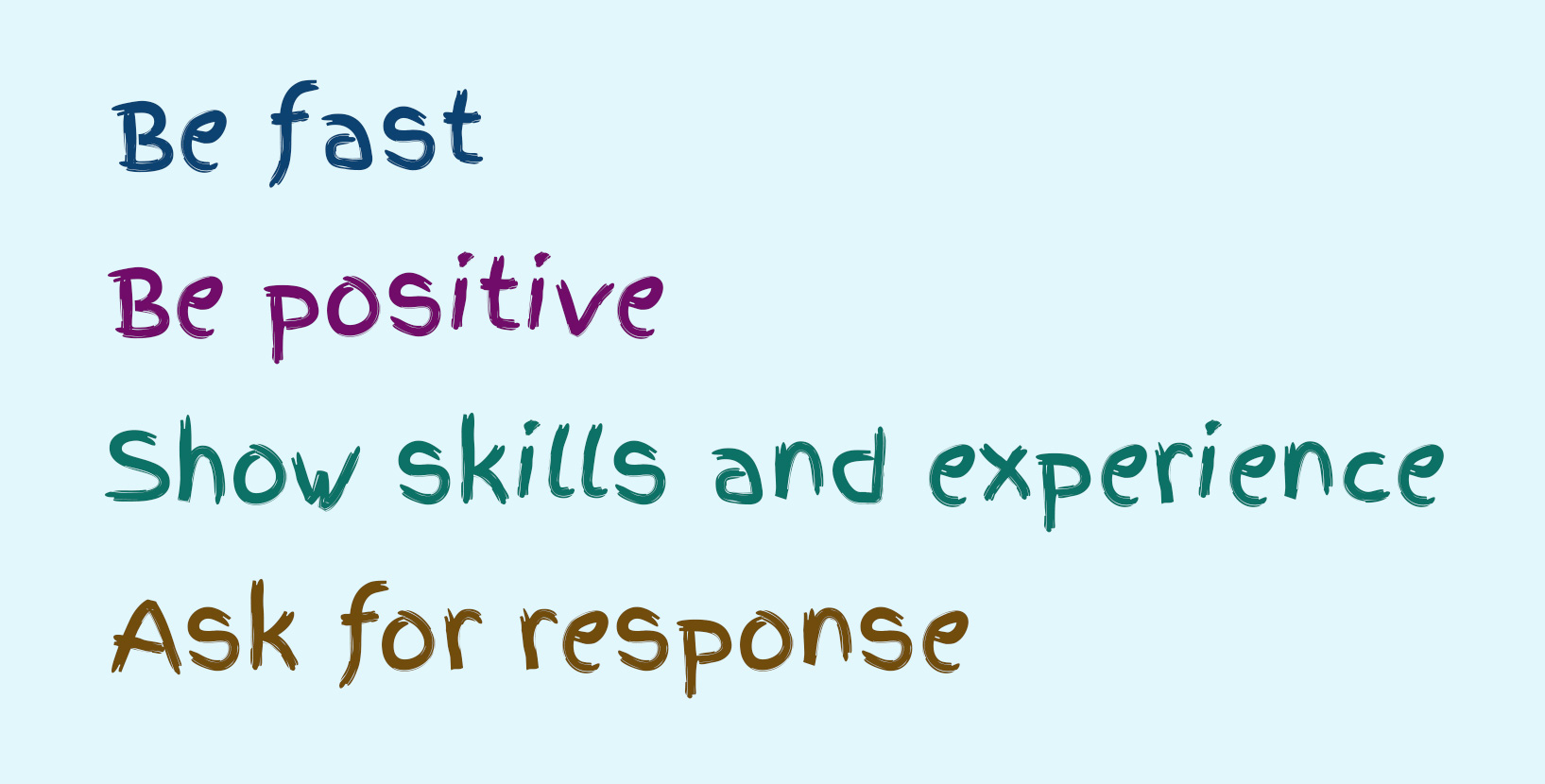 Be fast
No matter how great your intro is, if you send it too late, you will lose. A major sales study of almost 3.5 million leads across different industries found that if you reach out to prospects in the first minute of their inquiry, your chances to win that prospect go up by 400%. This aligns with our own data which shows that 56% of shipments get booked in the first hour, and over 80% go out on the first day. The faster you reach out to prospects, the higher your chances are.
Make sure you set up your notification and route settings and keep a close eye on the shipment feed.
Be positive
Have you ever seen a negative, pessimistic salesperson do well? Neither have we. Science says that being positive gives you more of a chance to win customers. One study found that waiters who simply said "good morning" and wrote a positive weather forecast at the back of the checks were able to increase their tips by 27%. If your intro message has a positive tone, it gives you a better chance of being booked for the shipment.
Similarly, don't talk bad about other drivers or the platform or bring up worst-case scenarios. There's a psychological phenomenon where our brain associates negativity to the person who's doing the talking. You say something negative about other drivers – they associate it with you.
Demonstrate skill and experience
Next, give your prospects an overview of your experience. Don't worry if you don't have years and years of it, just make sure they don't walk away uncertain whether or not you can do the job, as this is one of the biggest customer anxieties.
If you have any licenses or certificates related to the job, be sure to mention them. Oftentimes, it's not the driving skills that are most important for your prospects. When it comes to transporting animals, having skills and experience in treating them well is at least equally important, if not more.
Ask for a response
It can be hard to understand why people who list shipments fail to reply to your messages. While this is a complex issue, one way to increase your chances is to explicitly ask for customer feedback. It helps if you can demonstrate urgency too, but don't fake it or be too aggressive. Let them know you need to plan your routes and would prefer a quick response.
Another technique is to provide an "action plan" – outline the next steps you would take should they proceed with you.

We've prepared a few sample Intro Messages for you that can be used for a range of scenarios.
Sample Intro #1 - Experienced pet transporter
Hey Lisa, my name is Natasha, and I'd LOVE to help you with your upcoming transportation job!
I've been driving for 25 years, with no accidents, fully insured and I drive a 2016 Land Rover with plenty of cargo space! I've been driving on CitizenShipper for a few months now and have over 15 completed shipments, and hold a 5 out of 5 stars rating!
I also hold a USDA license and am fully qualified to transport pets, and have been transporting cats and dogs professionally for 9 years now.
I have a pet carrier should you not have one yourself, and your dog will be transported safely in the carrier. We stop every 90 minutes for restroom and walking breaks. I have a GPS tracking app so you can track my exact location at all times. I'll also take regular photos of your puppy and keep you updated every step of the journey. :)
I won't be traveling with any other pets for this run, so your pet will be traveling exclusively with me, and I can offer you a very fair price!
I get booked up with new jobs pretty quickly so please let me know as soon as possible. Thanks! :)
Sample Intro #2 - New transportation provider
Some new drivers won't have much relevant experience or feedback on the site, so they will have to emphasize other selling points. Here's a sample intro for a new transportation provider:
Hey John, my name is Mike, and I'm available to help you with your upcoming shipment.
I've been driving for 18 years with no accidents, I'm fully insured, and I drive a Dodge Ram with a trailer that's roomy and can safely transport your motorcycle! I have straps and cables to make sure your bike is safe and will arrive at the destination in perfect condition.
I'm new to CitizenShipper so I haven't built up any feedback yet, but I'm committed to doing a GREAT job here, and because I really want to build up my profile and feedback I'm prepared to offer you a great deal on this shipment, to help me get started and build up my reputation.
I'll provide regular updates throughout the trip and you'll be able to track me using a GPS app on my phone.
I hope you'll give me the opportunity to work with you! I can guarantee an excellent job!
Sample Intro #3 - Experienced transportation provider
Hey Kate, this is Jim from Perfect Pet Transport. My wife and I work as a team and we'd love to help you with your upcoming transportation job!
I've been driving on CitizenShipper for a little over a year now with a perfect 5-star rating and 60+ reviews from satisfied customers. Head on over to my profile page to see what others are saying about me. :)
People like working with me because I'm a pet lover myself and so I completely understand how anxious it can be transporting a member of your family! What we do is take regular breaks every 90 minutes while sending you pics and keeping you updated every step of the journey! You can rest assured your Collie will be in safe and loving hands with my wife and I. Your Collie will not be treated like cargo but as a member of the family. Because there are always two of us in the vehicle, we can always give your pet 1 on 1 attention and make sure they're happy and relaxed. We pride ourselves on a stress-free experience for both you and your pet. :)
We do not require a crate, but if you prefer your pet to be crated during the journey, we can provide one for you at no extra charge.
We will be staying at pet-friendly hotels and anticipate one overnight stop, based on the distance. We'll be driving from the pickup to the destination direct, with no additional pets in the vehicle. Our bid includes grain-free food, purified water, cleaning solutions and door to door service. Your pet will be fed once a day and watered three times a day. Pet's under six months are fed twice a day. Current shots, IDs, and signatures will all be required for pickup.
Please let me know your budget for this, and get back to me as soon as possible because we get booked up really fast!
Thank you and I look forward to working with you! :)
Sample Intro #4 - No shipment category specified
Hey there! I'm Camilla of Quickstep Transport. I just saw you listed a transportation job and I'd love to offer my services!
I've been driving for 20 years, with no accidents, fully insured and I drive a 2017 Chevy Silverado. I hold a 5-star rating on CitizenShipper and can perform your transportation job quickly and professionally.
My price includes door-2 door pickup and delivery, direct ground transportation, Live GPS tracking, signature capture at pickup/delivery. I accept most forms of payment including Venmo, Paypal, credit cards, cash, and check.
We have routes every month that fit closely with your dates, and most shipments are same-day or next day delivery.
We get booked up quickly so please respond as soon as you can so we can offer you the best possible rates.
Do you have any particular budget in mind?
I very much look forward to hearing back from you.