We are excited to announce a major overhaul of the transporter profile pages!
Newly redesigned, profile pages now offer more ways for drivers to express themselves and manage their online presence. Shipping customers, in turn, will find it quicker and easier to pick the transporter that suits their requirements.
Let's go through what exactly is changing and why.
A focus on who you are
One of the guiding principles behind the redesign was the need to give drivers more room to express who they really are. While metrics are important – the number of bookings, cancellations, and reviews – we wanted to offer drivers an opportunity to truly introduce themselves through text and photos to every potential customer.
Review comments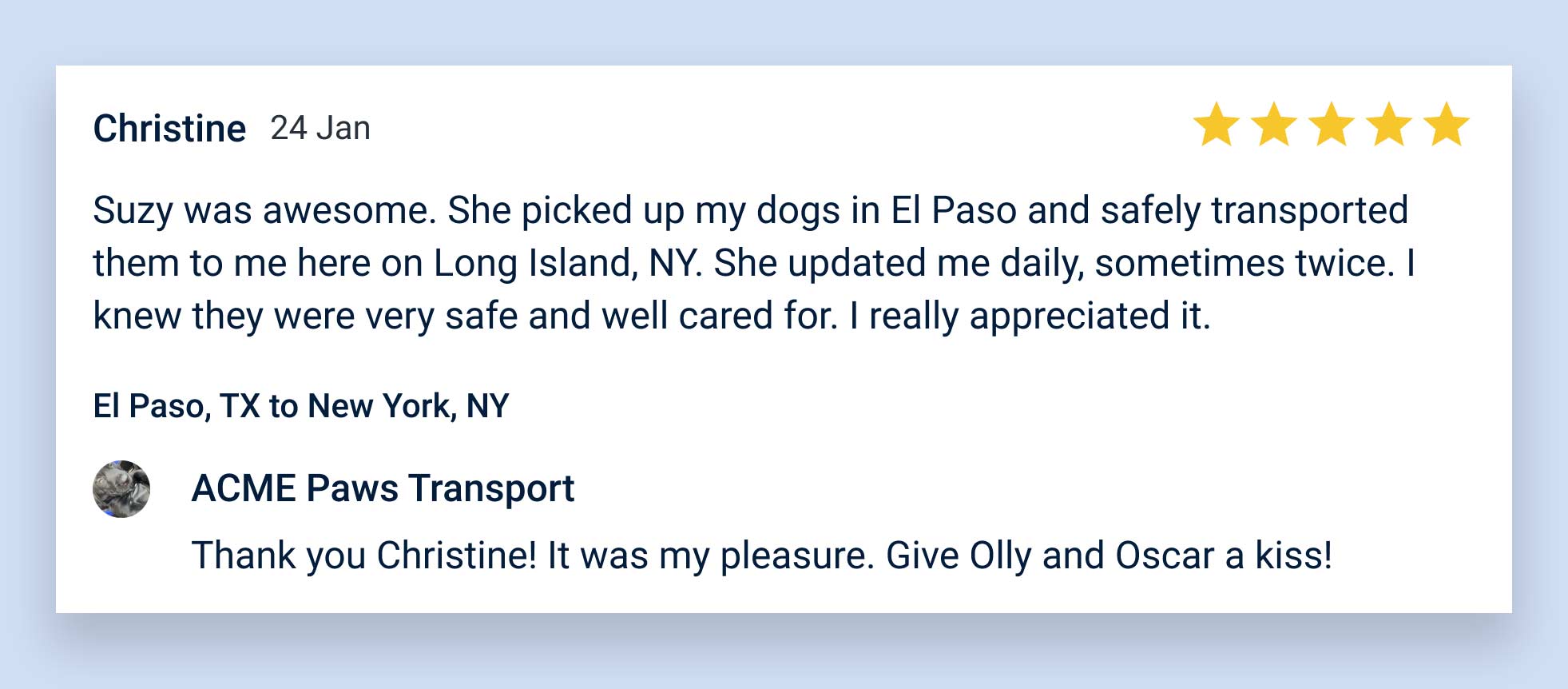 For any online business, customer reviews are absolutely critical. They can be the difference between success or failure. This is why we're delighted to finally announce this new feature, allowing drivers to respond to reviews that customers leave on their profile.
There's plenty to be said for engaging with reviewers, whether their feedback was positive or negative. A Harvard Business Review study found that once hotel managers start leaving comments on customer reviews, they start getting 12% more reviews, and their average rating increases too.
Responding to a customer's review, you have an opportunity to express your personality, brand, and style. Each comment you leave grants your future prospects a preview of what their interaction might look like.
This new feature, we hope, will provide transporters with the necessary tools to attract more customers and manage the review process hands-on.
Category Offerings
The information that transporters need to communicate to customers usually includes the full list of services and equipment that they offer. Up until now, the only way to avoid repetition was including this info in the Experience section of the profile. However, this wasn't exactly practical and customers often ended up missing the list of the driver's offerings.
That's why we've added a new section called Category Offerings to the page.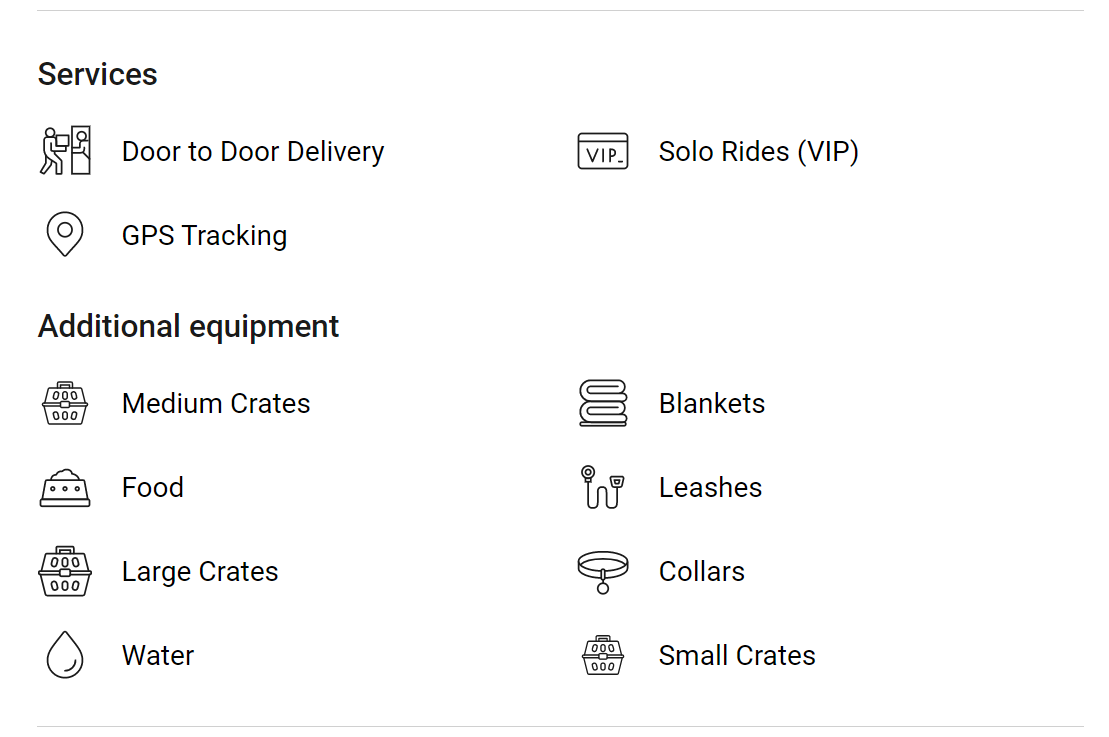 Simply go to your profile settings, navigate to Category Offerings menu, and choose which services come included with every delivery you make. Note that this is entirely optional – if you aren't able to provide any of the extra services yet, it's better to just leave the section blank. As you gradually improve your offerings, be sure to add them so that the customers would know what to expect ahead of time.
Tip: Don't list anything that you're not really offering yet. This will help avoid misunderstandings with the customers and protect your future ratings.
Breed experience match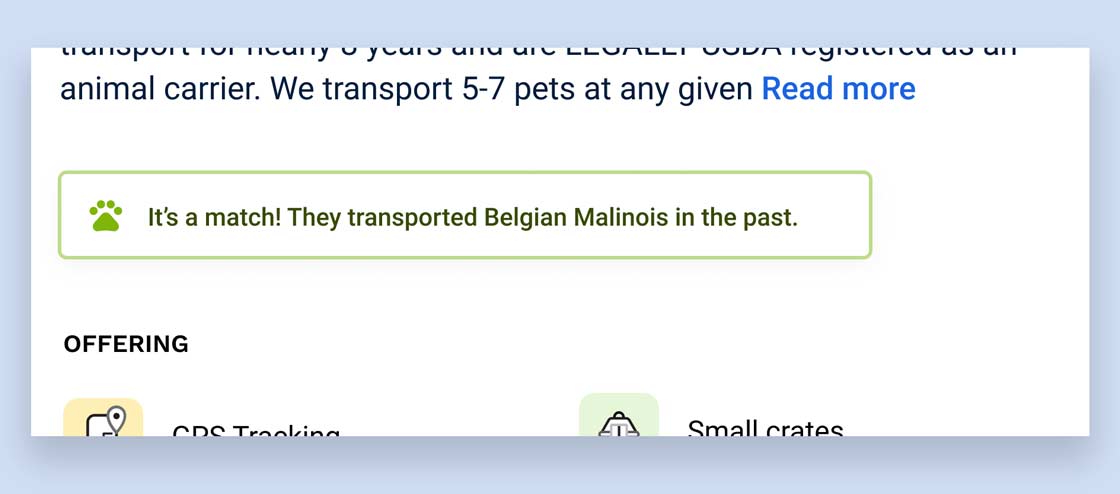 One of our goals is to ensure quality matches between shipping customers and transporters. Sometimes a transporter's previous experience with a certain animal breed can be a strong signal to customers that they are the right person for the job.
As of this update, we will be showing this information on your profile page. Whenever there's a match, the shipping customer will be automatically made aware of your breed experience – there's no need for you to enable anything.
Badges update
The profile badge feature was introduced more than six years ago. While some of the badges have worked well, others no longer serve their initial purpose adequately. Here's what we're changing:
Shipments Won Badge: We're doing away with the static badge that shows that you've won 5, 10, 25, 50, or 100 shipments. Instead, we're adding a dynamic up-to-date counter to your profile page, so that your prospects can easily see exactly how many shipments you've completed.
Miles Driven Badge: We are removing this badge since we feel that it no longer accurately describes a transporter's experience.
CitizenShipper-Certified Badge: We are removing this badge since it fails to communicate enough useful information to shipping customers. Instead, we added multiple verification specific badges that properly reflect the type of certification and vetting each driver holds.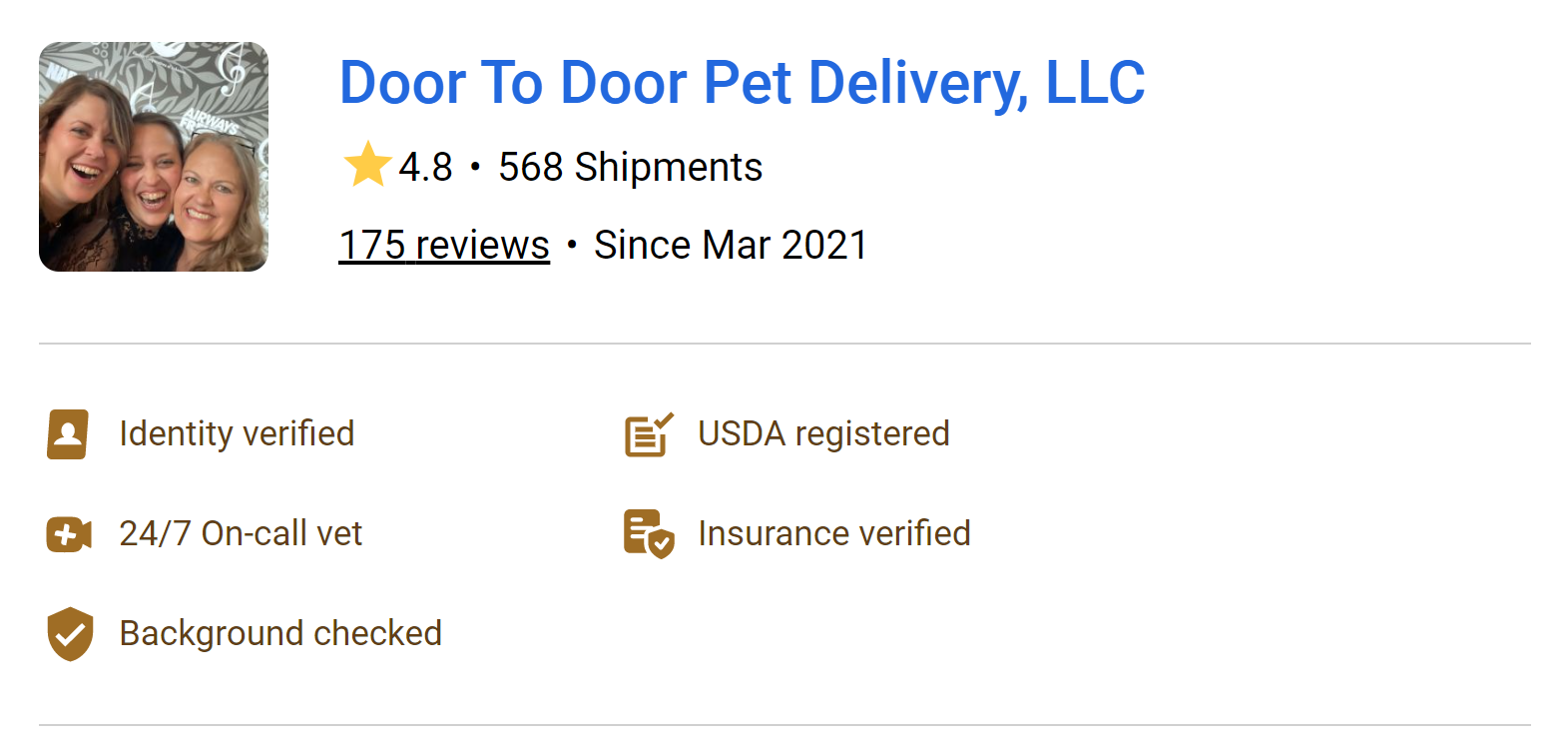 No Cancellations Badge: We are introducing this new badge, awarded to transporters whose cancellation rate is zero in the last 4 weeks. We've found that shipping customers strongly favor transporters they can rely on.
A fresh new look
For an independent transporter, first impressions are essential. A profile page functions much like a shop window - it has to entice customers by letting them know what the business is all about.
We feel that your profile page deserves the best treatment possible, which is why we've thoroughly redesigned it to help you express yourself better.
All this is a work in progress, of course, and we fully intend to tweak things further based on your insight. Try it out, then let us know what works and what doesn't. We're excited to hear what you make of your new profile page!