Trust is at the core of the transportation business – no trust, no business.
It is therefore critical that you do all you can to ensure that your profile appears trustworthy to potential customers.
The Verification tab of your profile settings page is a great place to start. It allows you to verify the details listed on you and your business: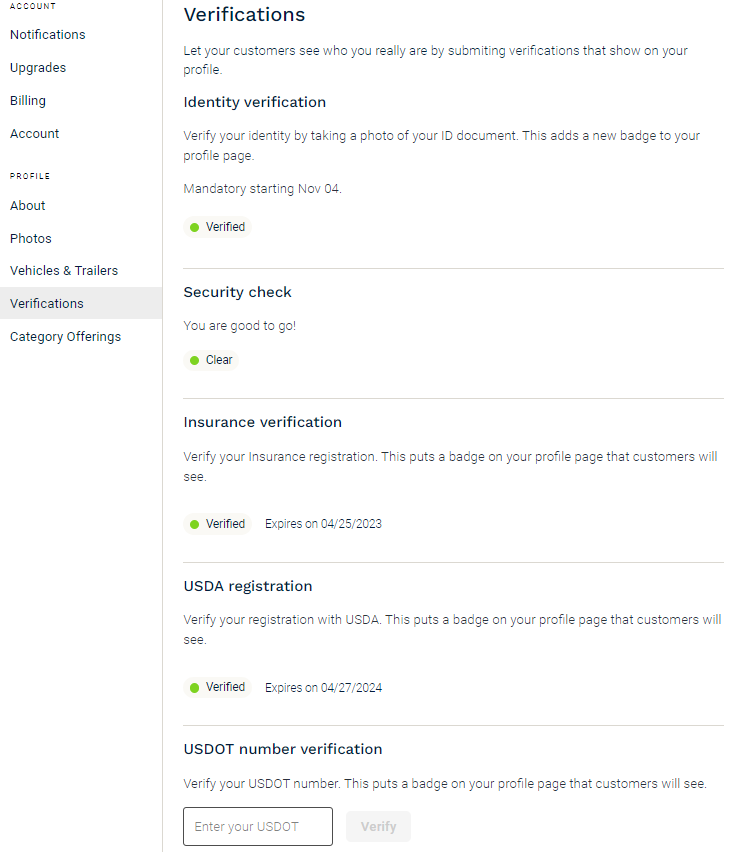 Identity verification
Before placing bids on shipments or communicating with prospects, we strongly encourage and recommend that all drivers submit their information for identity screening. To learn more about best practices for a successful verification, visit this article.
Security check
Upon completing the ID verification process, we require all drivers to submit their information for a background check. For more details on this process and why these verifications matter, please read our article on how Background Screenings create community.
Insurance verification
Whether you carry commercial cargo, automotive liability, or a pet insurance policy, you can submit proof of coverage and earn an additional verification badge on your profile. To learn more about how to complete this process, visit this article.
USDA T Registration
Upon receiving your T Registration from USDA, you may visit the verifications tab and verify your registration as a pet transporter registered with the United States Department of Agriculture. For more details on this process, see our USDA verification guide. And in case you are yet to obtain your T registration, read more about the registration on the APHIS website or check out this video on how to apply.
USDOT number verification
Carriers registered with FMCSA that have a USDOT number, are strongly encouraged to scroll to the bottom of the verifications page and submit their USDOT number for verification.
Coming soon...
We're in the process of adding additional verification settings that'll make your profile stand out from the crowd. Let us know if you have a certificate or license that you'd like customers to know about.
Don't forget that trust is built (or lost) at every stage of communication. Details matter! The photos you upload, the spelling and grammar you use, the way you treat people and handle issues — all these can impact your review score and your reputation.
What to read next
For more advice on setting up your account, see the articles on account settings (2-min read) and background checks (2-min read).
For advice on making your first steps on the CitizenShipper platform, see Getting your bearings.
For advice on winning shipments, see Bidding and payments.