On CitizenShipper, a lot of activity occurs within our Messaging Platform. Bids are won and lost there, quotes are negotiated, and drivers are booked.
The system is easy to understand and use for those familiar with popular instant messaging services such as WhatsApp, iMessage, or Google Hangouts. Here's a brief summary of what our Messaging Platform brings:
A fast, mobile-optimized messaging experience keeps your conversations flowing smoothly no matter which device you're on.

Opportunities for

ridesharing

listed right there on the screen, allowing you to calculate potential earnings before making a bid.

Comprehensive record-keeping of offers made and deals closed, preventing any unpleasant surprises you might encounter.
For those interested in knowing more, we can also go into details. Here's a screenshot of a typical message exchange you might have with a driver on the platform: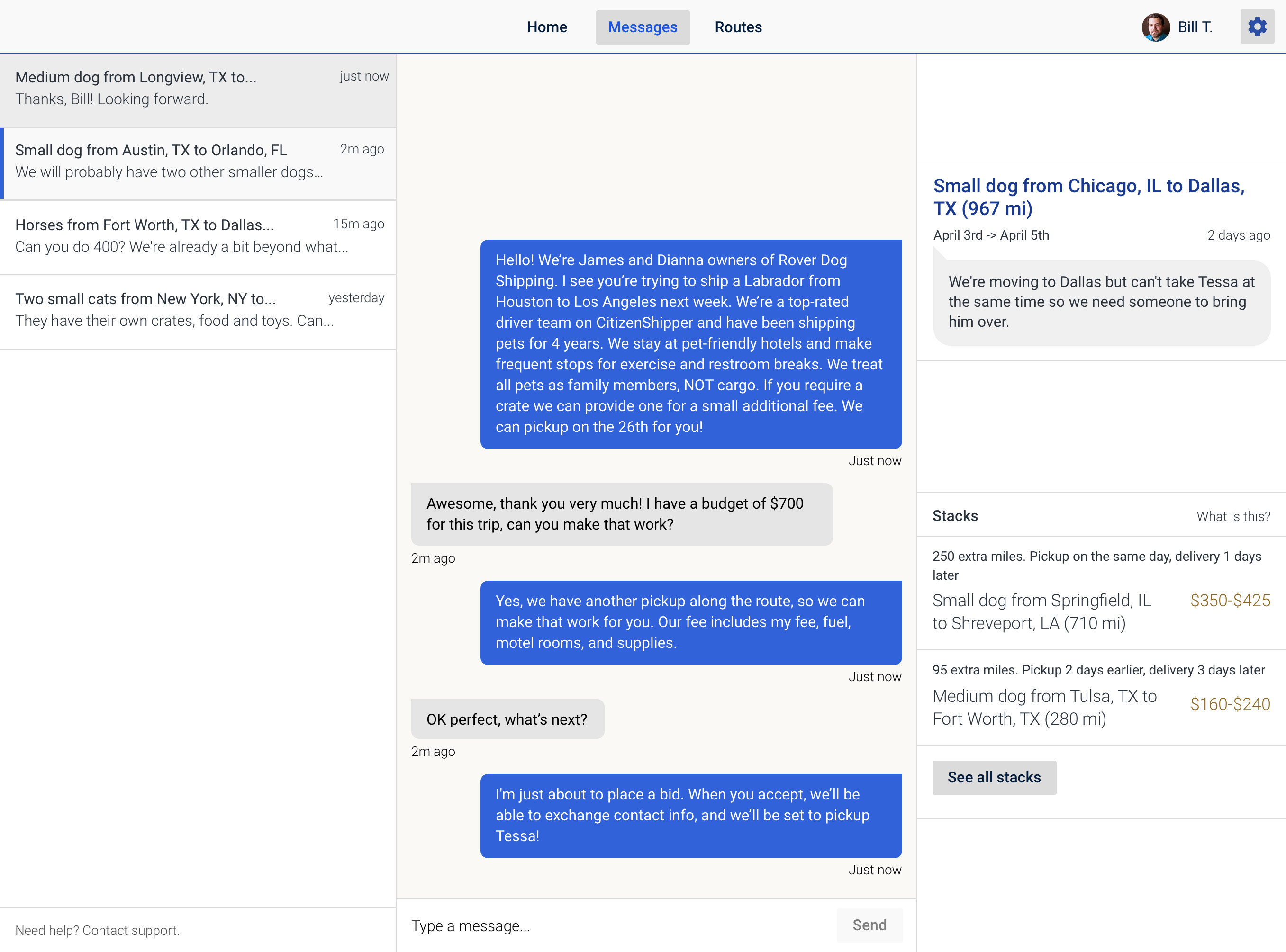 As you can see, the screen is divided into multiple sections. Let's look at each of those in turn:
Shipment Overview (Top-Right)
This section provides drivers with a quick review of the shipment details. Let's zoom in: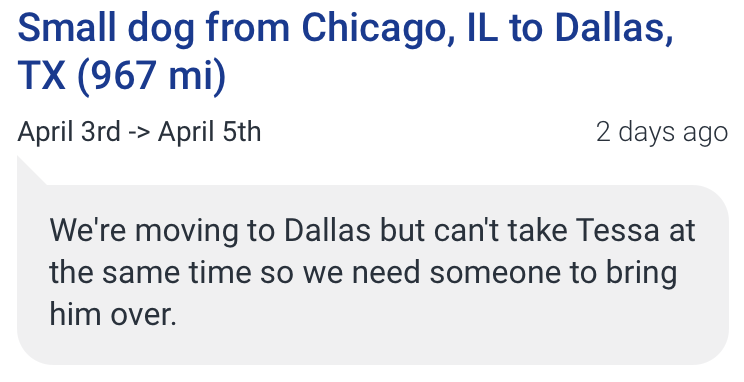 Here, we see that the customer wants to transport a small dog from Chicago to Dallas between April 3rd and April 5th. The text just below the date is a snapshot of the customer's description of their job.
Ridesharing (Bottom-Right)
This section features our Rideshare Tool, allowing drivers to quickly and easily locate active shipments along the same route of the shipment they are currently discussing with the customer: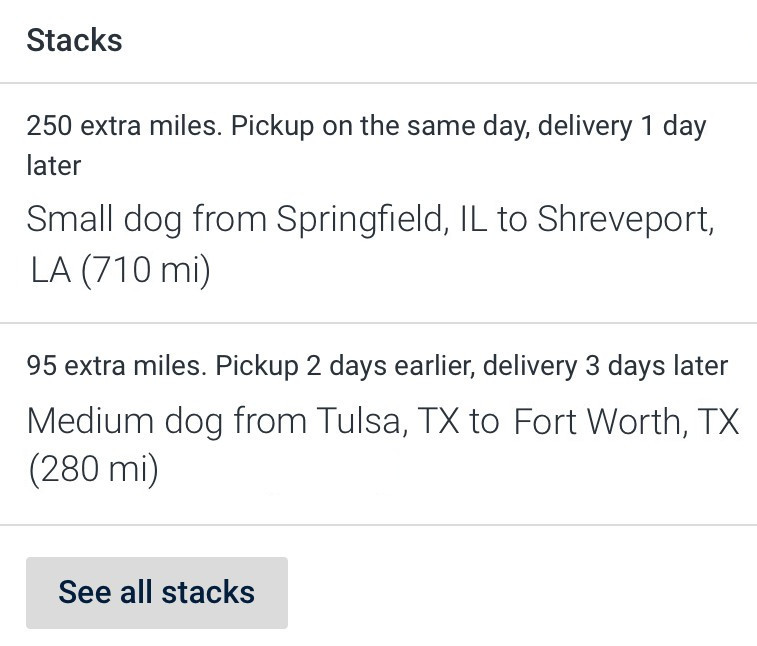 In this example, we see that this customer wants to ship a small dog from Chicago to Dallas. The ridesharing section shows two similar shipments (both dogs) that are along the Chicago-Dallas route (assuming the driver is driving directly).
Other information contained in this section include:
The extra miles added to the trip with each ridesharing shipment you pick up
The proximity of the shipments' requested pick-up and drop off dates


Main Conversation Screen (Central Panel)
The central panel is where the customer and driver exchange messages: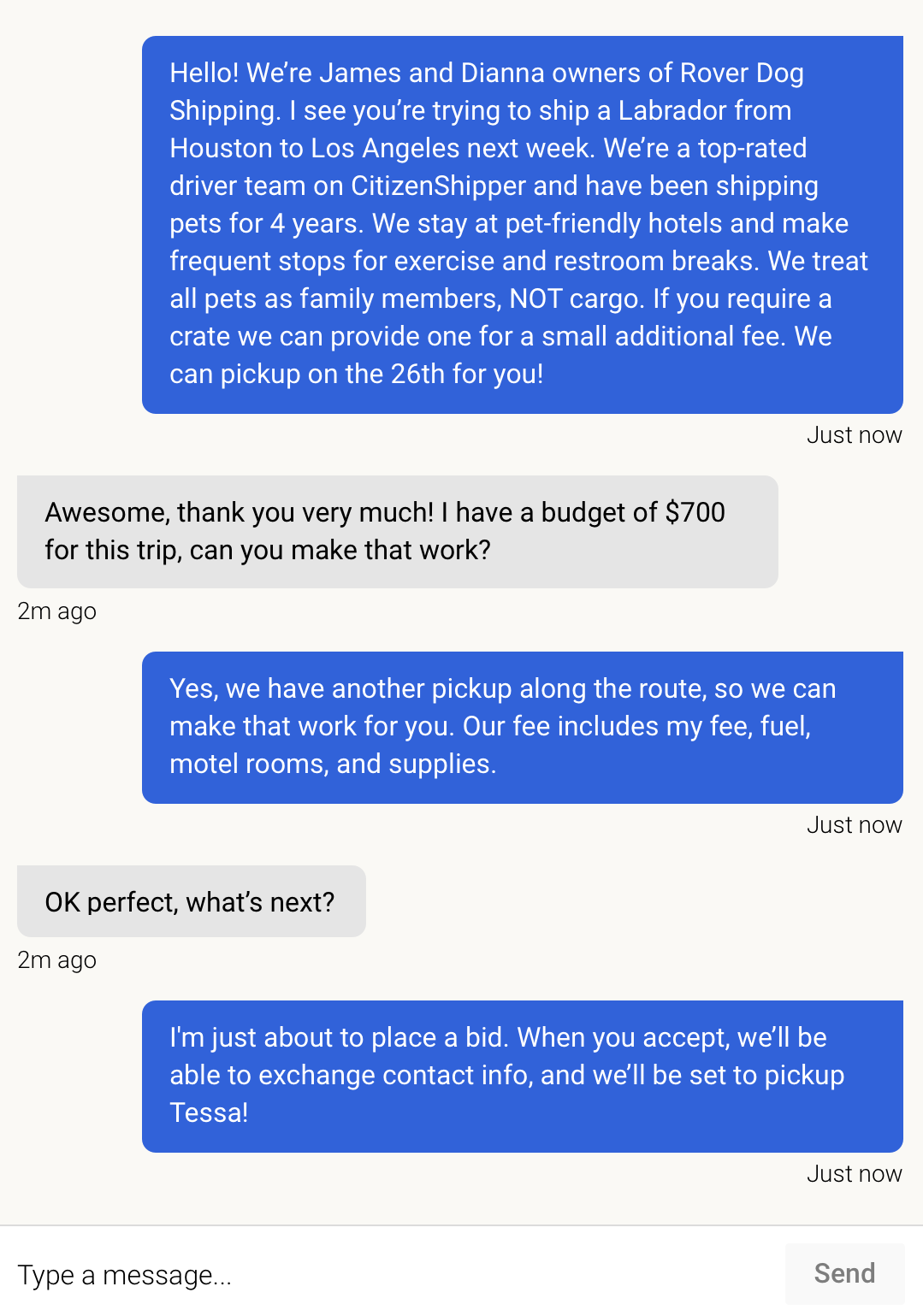 Note that the messages are time-tagged, showing clearly when each was sent. This can be crucial if the message exchange becomes a factor in a Dispute Resolution scenario.
Active Conversations (Left Panel)
This section shows your ongoing conversations with customers, letting you quickly and easily switch between them. Conversations are arranged in order of when the most recent message was received:
Our team has been working on this exciting new release for some time now. Our hope is that the upgraded messaging platform provides you the tools you need to make your CitizenShipper experience easier and more profitable!


What to read next
For more advice on communicating with customers, see our article on the benefits of staying on-site (2-min read) and our comprehensive guide on writing intros that sell (7-min read).
We also recommend the Bidding and payments section of our Help Center.